The BSCMR was formed in 2004 and the current Board of Officers (2018-2020) consists of the following leading physicians in the field:
Professor John Greenwood (Leeds General Infirmary, Leeds) – President
Dr Mark Westwood (Barts Heart Center) – President-Elect
Mr Richard Bazneh – Secretariat
Finance:
Professor Colin Berry (University of Glasgow, Glasgow) – Treasurer
Communications:
Dr Declan O'Regan (Imperial College, London)- Newsletter Editor
Dr Gaby Captur (University College London, London)- Website Design
Education & Training:
Dr Timothy Fairbairn (Liverpool Heart and Chest Hospital, Liverpool)
Dr Lucy Hudsmith (Queen Elizabeth Hospital, Birmingham)
Clinical Standards:
Dr Niall Keenan (West Hertfordshire. Watford)
Professor Saul Myerson (University of Oxford, Oxford)
BSCMR Research Group Chair:
Professor Gerry McCann (University of Leicester, Leicester)
Observers to the Board, representing Trainees:
Dr Sabrina Nordin (Queen Elizabeth University Hospital, Glasgow)
Dr Antonio de Marvao (Royal Brompton, London)

Observers to the Board, representing Radiologists:
Dr Ben Holloway (Queen Elizabeth Hospital, Birmingham)
Biographies

Professor John P Greenwood MB ChB, PhD, FRCP – President
John Greenwood is a Professor of Cardiology in the Leeds Institute for Cardiovascular and Diabetes Research (LICAMM) and Consultant Cardiologist at Leeds Teaching Hospitals NHS Trust, where he specialises in coronary intervention and cardiovascular magnetic resonance (CMR) imaging. His main area of research is the diagnosis and treatment of stable and unstable coronary artery disease. In terms of diagnostics, this particularly involves the use of CMR in terms of its development and validation through clinical trials. He was Chief Investigator on the landmark CE-MARC trial (Lancet 2012) which compared the diagnostic accuracy, cost effectiveness and prognostic ability of CMR and SPECT against X-ray angiography. He was also Chief Investigator of the BHF funded, CE-MARC II trial, a UK multi-centre, 3-way RCT comparing the management strategies of CMR vs. AHA SPECT criteria vs. UK NICE guidelines (CG95) for patients with stable chest pain. In terms of therapeutics, he is collaborating on a number of major multi-centre clinical trials designed to improve outcomes in patients undergoing primary PCI for acute ST elevation myocardial infarction. He is Vice President (Education & Research) of the British Cardiovascular Society (BCS) and Chair of the scientific programme committee (2017-2020), and sits on BCS Council, Board, and Executive. He was elected to the Board of BSCMR (British Society of Cardiovascular MR) in 2009, and is now BSCMR President (2018-2020). He is past-Chair of the SCMR clinical trials committee and is a member of the SCMR scientific programme committee.
Dr Mark Westwood – President-Elect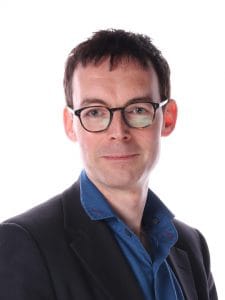 Dr Mark Westwood is a consultant cardiologist at Barts Heart Centre. He was previously the lead clinician for cardiac MRI (CMR) at Barts Health where he founded and delivered one of Europe's largest CMR perfusion services. To facilitate training and education at a regional and national level in CMR he co-founded London CMR in 2007 to emphasise the increasing clinical use of CMR within and outside the CMR community.
In 2012 he was appointed Director of Education for cardiovascular services at Barts Health. He is current Cardiovascular Director of Education at Barts Heart Centre, London. He is responsible for ensuring high quality training, education and continued professional development for all 1,500 staff members across the multidisciplinary team including over 125 junior medical staff. He was intimately involved in the development of Barts Heart Centre where he devised the entire medical workforce plan for all junior medical staff.
He has been the Training Programme Director for cardiology for North East London since 2011. Under his leadership of this programme this programme has consistently achieved year on year green flags for the quality of training in the GMC Annual trainee's survey. He is also currently the Vice President for the Cardiology Specialty Advisory Committee, the national committee for training in the UK and on the ESC Education committee.
As the Vice President of BSCMR, the UK's national society for CMR, he has written guidance on core and advanced level training in CMR to complement the cardiology curriculum. In 2015 he was the programme chair for the BSCMR Annual Conference where there were over 200 delegates attending.
In 2017 he was appointed chair of accreditation and certification for EACVI, the Imaging section of the European Society of Cardiology. He has developed European certification programmes for cardiac CT, nuclear cardiology and congenital CMR alongside those already established for echocardiography and CMR.
Between 2015-2018 he was the chief examiner of the European CMR examination where under his leadership the examination grew to be one of the largest subspecialist European examinations with over 150 candidates taking the examination in 2015 and 2016.
As a previous chair of the SCMR Education committee (2015-2017) he led a team to redesign the educational content of the SCMR website. This included delivering a series of short online courses which are now accredited for CME.

Professor Colin Berry – Treasurer
Professor Colin Berry is a Scottish Senior Fellow and holds a Chair in Cardiology and Imaging in the University of Glasgow. He is a Fellow of the Royal College of Physicians and Surgeons of Glasgow and Fellow of the American College of Cardiology. He is an Honorary Consultant Cardiologist at the Golden Jubilee National Hospital and Western Infirmary, Glasgow. His subspecialty interests are Interventional Cardiology and Imaging. Professor Berry jointly founded the Scottish Heart Disease Research Collaboration and the Scottish Cardiovascular Imaging Network. His research focuses on injury and repair pathways in heart attack and heart failure. His group's research seeks to better understand the nature of heart muscle injury, including causes, consequences, and health outcomes in the longer term. A current focus is heart muscle bleeding after a heart attack. His research uses novel research technologies such as MRI and coronary "pressure wires" and current and future studies are aimed to identify new treatments (such as stem cells) which may help patients who have had a heart attack. His research has been supported by the British Heart Foundation, Chest Heart and Stroke Scotland, Chief Scientist Office, Medical Research Council UK, Medical Research Scotland, Scottish Funding Council and Wellcome Trust. Professor Berry undertook undergraduate medical studies at the University of Glasgow (1987-1993) and completed an intercalated science degree (Maîtrise, Physiology) at the University of Paris (1989-1990). He was awarded a PhD at the University of Glasgow (2002) in Cardiovascular Science and his studies were supported by a Medical Research Council Clinical Training Fellowship.
Dr Tim Fairbairn
Dr Fairbairn is a Consultant Imaging Cardiologist at Liverpool Heart and Chest Hospital. He specialises in advanced echocardiography, cardiac MRI and cardiac CT. Clinical and research interests include aortic valve disease, TAVI and inherited cardiac conditions. Academically, he has over 20 peer reviewed publications and research awards from the AHA and BSCMR. He is lead of the TAVI service at LHCH, Chair of the Cheshire and Mersey Cardiac Imaging Network and was recently appointed to the board of BSCMR. Graduating in medicine from the University of Manchester his cardiology training was in Yorkshire and the North West of England, completing his PhD at the University of Leeds and an International Fellowship at Toronto General Hospital, Canada.
Dr Saul Myerson
Dr. Saul Myerson is a consultant cardiologist at the John Radcliffe Hospital in Oxford, and is the clinical lead for cardiac imaging. He is also an honorary senior clinical lecturer at the University of Oxford, and Lecturer in Medicine at St. Catherines College, Oxford. He specialises in non-invasive cardiac imaging, particularly cardiovascular magnetic resonance, and his clinical and research interests are in valve disease, aortic disease and cardiomyopathies. He qualified from the University of Bristol and completed further training in London and Oxford. He has published widely, has given many national and international lectures and is editor of the Oxford Handbooks of Cardiology Emergencies, Valve Disease and Cardiovascular Magnetic Resonance. He was president of the British Junior Cardiologists Association from 2005-2007.
Dr Lucy Hudsmith
Dr Lucy Hudsmith is a consultant cardiologist in Adult Congenital Heart Disease and heart disease in pregnancy at University Hospital, Birmingham with a special interest in CMR and TOE imaging. She qualified from Oxford University and subsequently trained in Nottingham, Birmingham and Oxford, completing her research thesis in Cardiovascular Magnetic Resonance Imaging in Oxford. Her research interests include CMR and the right ventricle, arrhythmias, transition and exercise in ACHD, and is widely published on CMR.
Dr Declan O'Regan
Dr Declan O'Regan is an MRC Senior Clinician Scientist and Consultant Radiologist who heads the Robert Steiner MRI suite (Mansfield Centre for Innovation) on the Hammersmith Hospital campus and is lead clinician for Imaging Research at Imperial College Healthcare NHS Trust. His main research interest is mathematical modelling of the heart using human MR imaging to understand the genetic and physiological mechanisms that underpin cardiovascular disease.
Dr Niall Keenan
Dr Keenan is a consultant cardiologist at West Herts NHS Trust as well as an honorary consultant cardiologist at Hammersmith Hospital, and an Honorary Lecturer at Imperial College, London. He qualified from Oxford University in 2001 and then trained in cardiology and general medicine in London. He carried out specialised training and research in cardiac MRI at the Royal Brompton Hospital, in cardiac CT at the London Chest Hospital, and in echocardiography both at Hammersmith Hospital in London, and also at Hospital Bichat in Paris. He has also undertaken advanced heart failure training at Harefield Hospital.
Dr Gaby Captur

Dr Captur is a consultant cardiologist at the Royal Free Hospital NHS Trust as well as a Senior Clinical Lecturer at University College London. She trained in cardiac MRI at the Heart Hospital/Barts Heart Center.